LIMITED EDITION PRINT FROM RON BEACH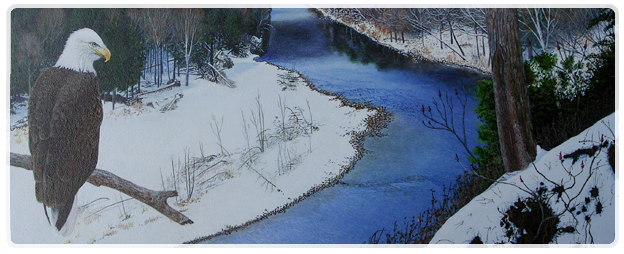 The inspiration for this painting came with the frequent sightings of our National Emblem, the Bald Eagle, that was once nearly extinct but is not seen regularly throughout the area.
I also chose the Loyalsock Valley for the setting. Many of us take what we have for granted but just a short drive and one can enjoy some of the most pristine beauty right here in the Commonwealth. However, with the natural gas industry threatening our state forests and not knowing what the future may bring, I chose this setting as a reminder of what we have and how to keep without human intervention.
Winter is the season of subdued colors of purples, blues, grays and browns. Some may call it a depressing season but I define it as a season of moods. If you are trying to create a mood in a painting, then winter is the season.
I place the eagle on a branch overlooking the valley, with the Loyalsock Creek meandering through it. The eagle appears to be watching and guarding his domain. I titled it "The Sentinel."
THE SENTINEL
Published from an acrylic painting
20 Canvas Giclees-$255.00
200 s/n Limited Edition Paper Giclee Prints-$125.00
Image Size: 14" x 24"
WILDLIFE 'N' NATURE
RON BEACH STUDIO
1217 Cedar Street
Montoursville, PA 17754
Phone (570) 368-2921
Add $14.00 shipping, PA residents add 6% sales tax.